---
Posted by REBELLIOUS CLOTHING CO. on
Kevin McCall is an American singer-songwriter, producer, and rap artist. Kevin McCall was born in Watts, California, and began his professional music career, primarily as a writer and producer, in 2007. He is currently signed to RCA Records and Chris Brown Entertainment. Since 2010, he has written and/or produced multiple tracks for Chris Brown, including "Burnt", "Shoes", "Big Booty Judy", "Work Wit It", "Twitter (Follow Me)", "Deuces", "Ain't Thinkin' 'Bout You", "Make Love", "Miss Breezy", "You Want Me", "Yesterday", and "One Night Stand". He also wrote and/or produced "Lighthouse" for Joe Jonas and "Christmas Eve" for Justin Bieber. He has released...
---
Posted by REBELLIOUS CLOTHING CO. on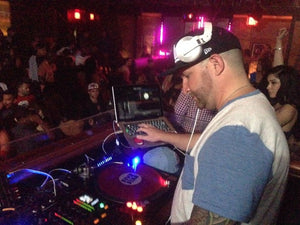 We got a chance to caught up with DJ Five Star out in Los Angeles, CA as he rocks some of the hottest parties to ever hit the LA night scene. Five Star has been turning up parties over the past decade with some of the largest names in the music and entertainment industry, while performing at some of the hottest venues from LA's Greystone Manor to Las Vegas's Mandalay Bay "MADE" Pool Party. Keep in touch with the latest haps on DJ Five Star via social network: Twitter @FIVESTEEZY
---
Posted by REBELLIOUS CLOTHING CO. on
Chanel West Coast, artist of Cash Money / Young Money Records YMCMB label! Wasssssup! So grateful to have the opportunity to catch up with the rapper, singer-songwriter, actress, model and television personality of Russian descent, Chanel West Coast. With her recent support in Rebellious Clothing Company. What an awesome opportunity, to have an awesome personality wear and support Rebellious Clothing. Chanel has appeared on MTV's "Rob Dyrdek's Fantasy Factory," supported in brands DC Shoes by Rob Dyrdek and also has a relationship with Rob's cousin, Drama, founder of Young & Reckless clothing Co. out of Los Angeles, CA.